Parking Pick Up and Drop Off
Changes to Kiss and Drive – May 2020 
Below are the changes to the procedure for dropping off and picking up students from school. We ask you to be patient as we work to quickly and safely deliver your children to your vehicle. The safety of our children is paramount and you will be expected to observe and follow the change procedures.
Students can be dropped off between 8.00-8.30am, and picked up between 2.50-3.20pm only.
For families with children in Kindergarten to Year 2 (and their siblings) you are required to drop off and pick up your children via Kiss and Drive. Older siblings of Kindergarten – Year 2 students will also be dropped off/picked up at the same place.
Students in Years 3 – 6 may arrive and leave school at their designated drop off and pick up point, which is the fig tree near the Parish. Year 3 – 6 students, please enter the school via the roundabout near the lawn bowls club, and loop around the car park towards the Parish. Refer to the map below for how to deliver your children.
Once you have dropped off your children (both locations) they will be met by staff and taken to wash their hands.
Reminders:
Please remain in your car and unlock the doors so we can assist your child/ren in and out of the car.
Drive forward to the closest cone.
No dogs to be loose in cars.
For pick up, it would assist us if you have your surname written on a piece of paper and displayed on your dashboard.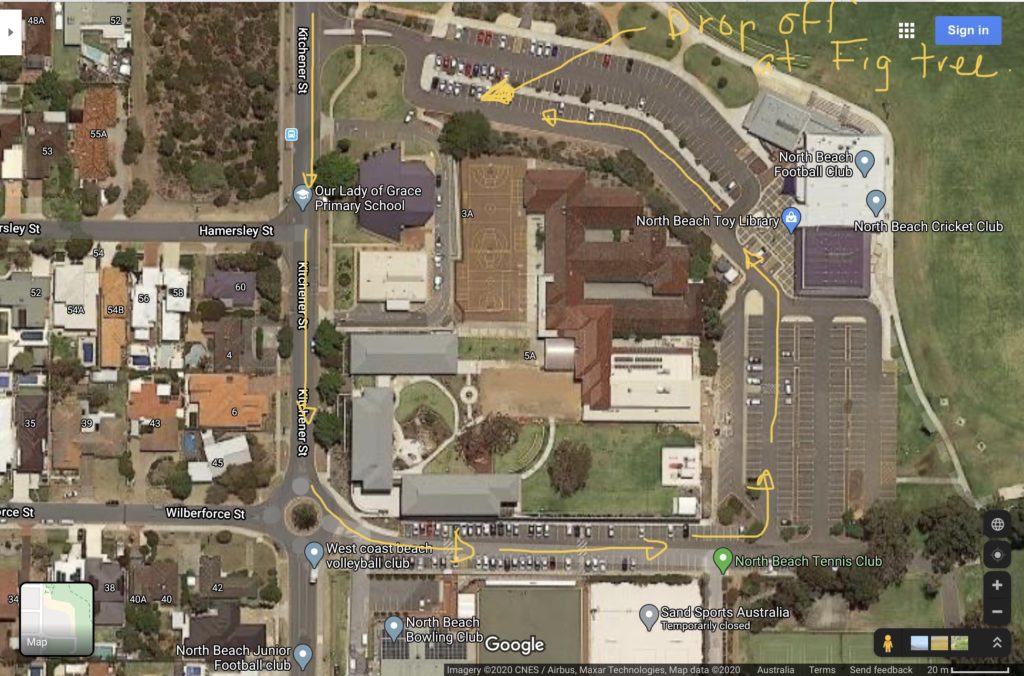 Parking
The school is surrounded on three sides by City of Stirling car parks. There are entrances to the school site on the both the western (Church) and Eastern (ovals) sides.
A Kiss and Drive zone operates in the church driveway which runs off Kitchener Street. The drop-off and pick-up point is next to the main gate to the netball and basketball court area.
The safety of our children is paramount, so as carers when dropping your children off  and picking them up, please use common sense and caution at all times.
The cooperation of everyone is always required to enable our car park traffic to flow as smoothly as possible, before and after school.